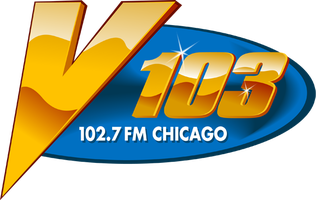 Today's R&B and Throwbacks
V103 plays Today's R&B and Throwbacks from music artists Jill Scott, Bruno Mars, Prince, Anita Baker, Stevie Wonder, Janet Jackson, Luther Vandross, Mary J. Blige, Michael Jackson, Isley Brothers, and many more. V103 personalities such as Steve Harvey, Bioncé Foxx, Joe Soto, Chris Michaels, and Ramonski Luv keep listeners entertained and updated on the latest news, traffic and weather.
V103 listeners are some of Chicago's most active, influential and powerful consumers. They impact sales across virtually all retail and service industries and represent billions in annual spending power. Listeners connect with V103 on-air, online via the station's website, at iHeartMedia.com, iHeartMedia apps on mobile devices, through social media (Facebook, Twitter, etc.), and at events.
Call Letters: WVAZ
Format: RNB
Dial Position : 102.7 FM
Brand: V103
Target Listener: Adults 25-54